The Scandic Lion Lagos Property Barometer
A survey conducted among real estate agents in Lagos – predicting future price moves
Information
The Lagos Property Barometer creates statistics from individual answers. Our wide survey gives you a better picture of what realtors are saying about the Lagos property market.
Trends
Data lets you discern between individual insight and trends. Knowing what the trends in property are is crucial for realtors, and highly important for customers. A barometer among realtors shows trends even before they materialize.
Transparency
Property prices affect us all – and are of great interest to the general public. Keeping society informed on real estate prices, and the dynamics behind them, lead to greater future prosperity for all.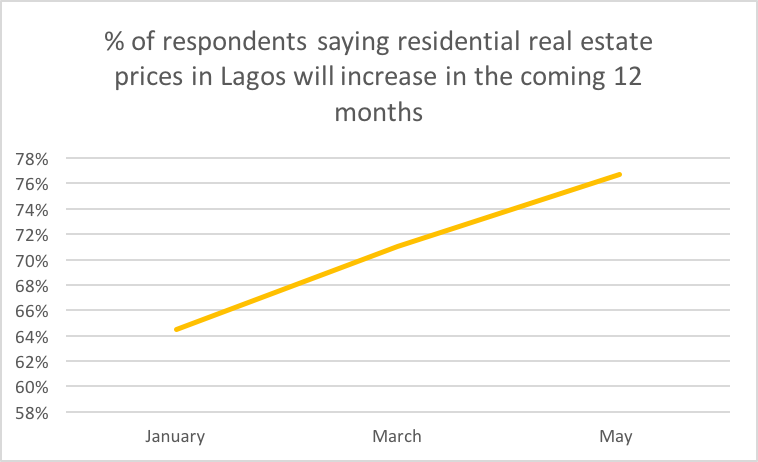 LAGOS PROPERTY BAROMETER 5/2019: PRICE INCREASES PROJECTED FOR LAGOS; THE RISING TREND CONTINUES
The latest Lagos Property Barometer reveals that market sentiment has continued a strong improvement since January. 77% of realtors now believe residential real estate prices in Lagos will rise in the coming 12 months, compared to only 65% in January. The elevated optimism corresponds strongly with recently robust CBN confidence indices. Market supply is however expected to continue growing in the coming months.
Realtors are more optimistic regarding price increases on Lagos Mainland than on Lagos Island, with Ikeja and Lekki respectively expected to see the largest increases. A full 55% of respondents believe Lekki will outperform both V.I. and Ikoyi.
40% of respondents believe sales times will increase further, with unrealistic price expectations on the seller side stated as the most common reason. In January, 52% of respondents believed sales times would increase. This decrease supports the overall finding of broader optimism among realtors. In line with increased sales times, market supply is expected to continue increasing.
Leo Oyebade of the realtor Leoola & Co comments expectations: "With the new salary increases, rents are expected to go up next year in Mainland primarily".
The Scandic Lion Lagos Property Barometer is a bi-monthly poll conducted among Lagos based real estate agents to gauge market sentiment. Scandic Lion has reviewed over 1400 real estate agents and contacted over 600 realtors deemed as active in the market. The Barometer should be seen as an indication of real estate agent expectations, and the difference between expected and realized may be large. Full reports are available at www.scandiclion.com/lagos-property-barometer.